Young, gay and bullied - High school is tough for any teen. For LGBTQ students, it can be a deadly environment
11 February 2011
Tweet
Share
By Allison Teague/The Commons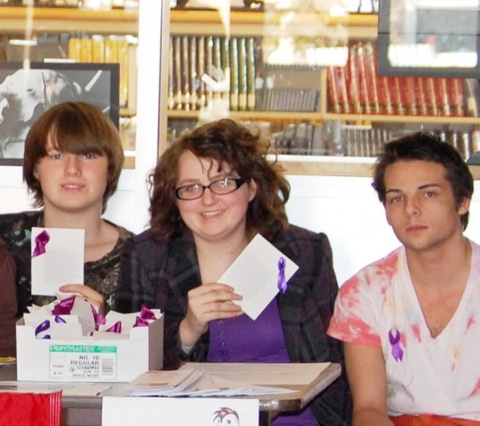 BRATTLEBORO—For many, the high school years are an emotional minefield. Some manage to navigate it successfully. Others are scarred for life by the experience.
And for those who do not identify as heterosexual, the high school years can be pure hell.
The recent spate of news coverage of the suicides of six gay youths around the country has focused attention on the plight of LGBTQ youth — those who identify as lesbian, gay, bisexual, transgendered, otherwise describe themselves as "queer," or still question their sexual identity. Their struggles in a setting where being different is fodder for bullying, or worse.
Disproportionately, young people who identify as other than straight kill or attempt to kill themselves.
BUHS senior Rose Lucas, one half of the only openly same-sex couple in school, said she and the rest of the Gay-Straight Alliance (GSA) members were compelled to take a public stand in light of the suicides.
"That could've been me," Lucas said. "I've thought about suicide. I'll openly admit it."
She said she has gotten a death threat.
"That was a couple of years ago with a different administration," she said. "I told them [then] and they didn't do anything."
But Lucas said harassment is still a part of her daily life. She said the more prominent members of the GSA all get harassed, especially on the bus.
"Any number of kids being bullied [are not necessarily gay]," said Curtiss Reed Jr., executive director of the Vermont Partnership for Fairness and Diversity.
The nonprofit Vermont Partnership works with schools to comply with state laws, enacted in 2004, designed to address bullying and harassment in public education. It also advocates for students and their families.
But not every classmate in high school is a potential bully, and there are signs that increasing numbers of high school students are taking action to end the cycle of abuse.
Building alliances
Jim Stacy, the registrar at Brattleboro Union High School, has advised the GSA, with the assistance of Maureen Daylor, a para-educator. "Last I knew, harassment was one of the biggest issues in the school," Stacy said.
On Oct. 20, as part of a nationwide movement to draw attention to the suicides and to the bullying identified as a factor in the deaths of young people, Stacy, Daylor and members of the GSA, wearing purple, sat at a table in front of the school library distributing purple ribbons to schoolmates.
Lucas said that the group made around 350 cards with purple ribbons for people to wear. At a little after noon that day, they estimated about half the student body had come by to pick one up.
Lucas and virtually all of the other students sitting at the GSA table noted they had experienced some form of harassment or bullying.
Josh Lake sat with his arm around his sister, Jessica, and said, "I'm straight and even I have experienced [harassment] because I openly support my sister, who is bisexual and a prominent member of the GSA."
Jessica Lake said phrases like, "that's so gay" can be hurtful.
"I try to tell them that they have no right to use someone's identity as part of a derogatory statement," she said.
"[That statement says] being gay is synonymous with being bad," said senior André Nadaeu, who identified himself as a bisexual. "It's like saying to someone, 'that's so Asian' or 'that's so Mexican.'"
Reed said that it is not a question of bigotry as much as it is a matter of simple insensitivity.
"We don't think how insidious our popular culture is, or the negative aspects of that culture in terms of degrading others," he said. "It's common to distinguish ourselves from others by putting others down."
Reed added that often young people use language unconsciously or sloppily, unconscious of how hurtful their words can be.
But sometimes it's all too conscious.
Lucas said that people passing in the hallway and on the bus say "dyke" or "fag," cloaking the word in a cough. The death threat three years ago was pencilled into a notebook in her backpack.
"It used to hurt and make me mad," she said. "Now I just feel sorry for them. Don't they know fags are gay males?"
But Lucas's pain still shows in spite of her bravado.
"What am I supposed to do? It happens every day," she said. "After a while, you can't go to [the school administrators] and report it every single time it happens. It gets tiring."
BUHS Assistant Principal Steve Perrin said he had students asking him all day long for a purple ribbon. "I finally picked up about 50 of them and handed them out until the end of the day," he said.
Two young men came by the table to ask for ribbons and shook hands with several of the GSA members. They said they were both straight but supported what GSA was doing.
"No one should have to die because of their sexual orientation," one said. "It's not right."
Bullying and harassment "put too many lives at risk. It's hard to see lives ended before they really began," Lucas said.
Lucas said she thinks it's harder for gay males, though.
"They have these macho role models," she said. "It's easier [for gay women] because we are just seen as a tomboy, which is more acceptable."
Senior Katelyn Sylvester said she is "questioning" and has been for about a year. She said she joined the GSA because she began to see incidents of discrimination. "There's a lot more discrimination than people think, and it's not OK."
She, too, brought up the "that's so gay" phrase as one example.
Stacy said he hopes the GSA will give students a sense that "behind every shadow there is light" and that there is hope in spite of the pressure to fit in.
The damage done
Dr. Robyn Ostrander, the medical director of child and adolescent services at the Brattleboro Retreat, treats youth who require hospitalization after suicide attempts.
Ostrander noted that among LGBTQ youth, being gay as a factor for suicide "is larger."
She said that among youth 15 to 24 years old, suicide is the third leading cause of death. "There is data that more kids who are gay attempt suicide and have suicidal plans," she said.
According to the Vermont Department of Health 2009 Youth Risk Behavior survey, 24 percent who identified as gay and 21 percent of those who identified as bisexual attempted suicide. These figures are based on hospitalization following an attempted suicide.
Windham Northeast Supervisory Union Assistant Superintendent Chris Kibbe said his Bellows Falls-based school district has been ahead of the curve.
"Our model is that we hope the kids treat each other kindly. We don't have a list of do's and don'ts," Kibbe said. "We do have policy that is in compliance with reporting and investigating [bullying and harassment], and resolution, and we train educators, administrators and community members with workshops and guest speakers."
About six years ago, the WNESU formed a diversity committee that meets monthly and oversees educational compliance with Vermont laws regarding bullying and harassment, as well as outreach education in the community.
"The crucial thing we try to work on is the climate," Kibbe explained, noting that when students know they can get away with bullying or harassment, they will do just that.
"But if the message is zero tolerance, and there are messages of diversity that say 'be kinder to each other,'" he said, the school environment improves.
Perrin noted that BUHS has instituted similar systems for victims of bullying or harassment to make a complaint.
"Our teachers and administrators are trained on what to do when they receive a report," Perrin said. "If our teachers hear [bullying or harassment] or a student using certain language, they act on it immediately."
Several years ago, in the aftermath of a series of high-profile racial incidents, Perrin said a "no-bystander movement" was formed under the administration of Principal James T. Day. It was designed to instill a spirit of harmony and understanding in the increasingly diverse Brattleboro community.
"And that worked really well here," Perrin said. "Incidents [of racially directed harassment and bullying] reports dropped almost immediately."
However, Perrin indicated that other than the Gay Straight Alliance, LGBTQ issues of harassment and bullying are not addressed directly by the BUHS administration.
"Our goal is to let students know they can talk to us," he said. "But we need the initial report [of bullying or harassment] to address it."
"We want all students to feel comfortable here [at BUHS]," Perrin said. "We have ninth-grade diversity classes where I talk about what bullying and harassment are. We role-play situations that have to do with negative behavior. Some of it easy and some is complex.
"We take a look at the law and what is technically harassment or bullying, and we talk about it. We ask the kids about how they feel when it's directed at them."
Perrin said that he even uses the description of people or concepts as "so gay" as an example. He said kids who use it are not really saying that.
"They'll tell me what they mean is 'You're so stupid,' and I say, 'Well, why don't you just say that instead?' We try to get them to use different language."
Prevention and resolution
"Education is key," notes the state Human Rights Commission (hrc.vermont.gov) website.
The commission advises that "it's important when you see [and identify] the behavior, that it stop, that the perpetrator understands it's unacceptable, and that the victim finds some sort of resolution."
Perrin said often, resolution can be as simple as the victim having the opportunity to talk to the perpetrator. "That happens a lot. They just want to say how [what happened] hurt and to get an apology."
Dr. Ostrander reiterated that education is key to preventing suicides among youth, whether they are LGBTQ or heterosexual.
"Educating the public about what depression looks like and how to go and talk to someone who you think is in trouble is important for teachers, guidance counselors, family members, communities and their leaders," she said.
"People need to know what it looks like," Ostrander added. "Often kids will divulge how they are feeling just because someone is taking the time to be interested and is asking them."
And that, she said, "reduces the risk of a successful suicide right there."
Ostrander said that kids are always looking for role models around them.
"If their role models are depressed and suicidal, it's a recipe for disaster," she said. "Once kids know someone who has tried or committed suicide, it kind of lowers the bar for suicide for them. It seems like a more reasonable option. They see it as being an OK solution."
Though young LGBTQ people have more risk factors for suicide and homelessness than heterosexually identified youth, simply identifying as LGBTQ does not by itself lead to either homelessness or suicide.
"Being gay is usually just one part of what's happening," said Sue Dennison, youth development director at Youth Services, a Brattleboro-based agency that provides help and resources to at-risk young people. "There are usually a lot of stressors."
Ostrander noted the difficulty of measuring the number of LGBTQ youth who have died at their own hands.
"There's no way to know that number," she said. "The families don't talk about it, and it's not published in an obituary. And they're not there to ask."
"It doesn't matter who you are," said Brian Remer, project manager for the Vermont Youth Suicide Prevention Project. "If you are not accepted or are bullied by a group, then it's easy to feel you're better off without it."
"We all just want to know we belong," said Remer. "We want to have a purpose. It comes down to helping one another [find it]."
"Bottom line, if we care for one another and treat one another kindly, that would eradicate [bullying and harassment] completely," Kibbe said. "We wouldn't be dealing with this issue."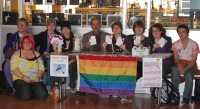 Reprinted with permission
Originally published in The Commons issue #73 (Wednesday, October 27).